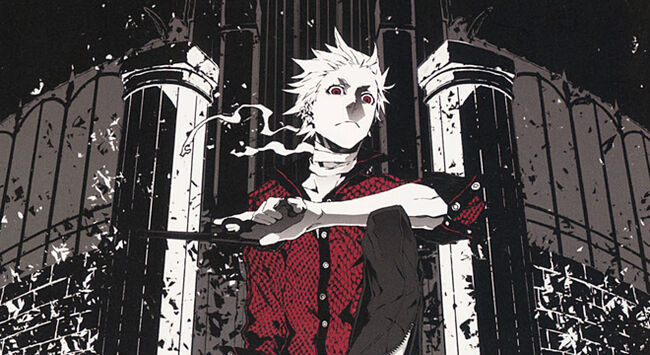 This is a wiki about the manga's named "Dogs: Stray Dogs Howling In The Dark" and "Dogs: Bullets & Carnage" by Shirow Miwa. This is a wiki where everyone can help out by adding and editing articles! The wiki has now a number of 1,751 edits, and currently editing over 127 articles and still expanding, since May 6, 2010.
Dogs: Stray Dogs Howling in the Dark In a post apocalyptic world devoid of seasons, where man's "golden age of technology" ruined earth and caused science to run amok, there live four individuals looking for a door to the hell far below the surface. Through a series of coincidences, the ex-hitman-now-bartender Mihai, the deranged and psychopathic Haine, the vengeful yet kind Naoto, and the freelancer Badou meet one another.

Dogs: Bullets & Carnage Sometime in the future, somewhere in Europe a city has many levels of underground, even secret dangerous levels that have answers to the past. Mihai is a retired assassin who has returned home to settle a vendetta and start a new life as a restaurant owner. Haine was genetically experimented on as a child, which led to him possessing dog like attributes. Badou is his clumsy chain smoking partner who becomes deranged when denied cigarettes. Naoto was orphaned as a child and has amnesia. She was trained to wield the sword. Their pasts are somehow connected to the secret underground and the organization that controls it.
Giovanni Rammsteiner is a main antagonist of the series and is a victim of the horrific underground experiments concerning the Kerberos spine.
Giovanni is often seen tormenting his "brother," concerning the death of Lily, in the hopes of inducing a berserker rage. He holds a grudge against his older "brother" Heine for escaping the underground and enjoys taking it out on him in their rivalry together.
Read more about Giovanni
Spring Season 2021 Anime Wikis

TV Anime

TV (Multiseason)

ONA

OVA

Specials

Film
Community content is available under
CC-BY-SA
unless otherwise noted.